Khoroshunova Olga / Shutterstock.com
3. Bali, Indonesia
Dreaming of life on a tropical island? Consider beautiful Bali, a gorgeous island of Indonesia. With thickly forested mountains, fields of rice paddies, golden beaches and coral reefs, Bali offers sun, sand, culture and history.
Bali is already a cheap island getaway, where the hotels are ultra-affordable, averaging less than $7 a night. But travel costs add up fast when you consider the almost $1,000-per-person airfare. For two people, a 14-day stay tallies about $2,100.
Contrast that to the affordable delight of calling Bali your home, where renting a one-bedroom apartment averages just a bit more than $200 a month. That's feasible on any retirement budget. This could be one of the best places to retire.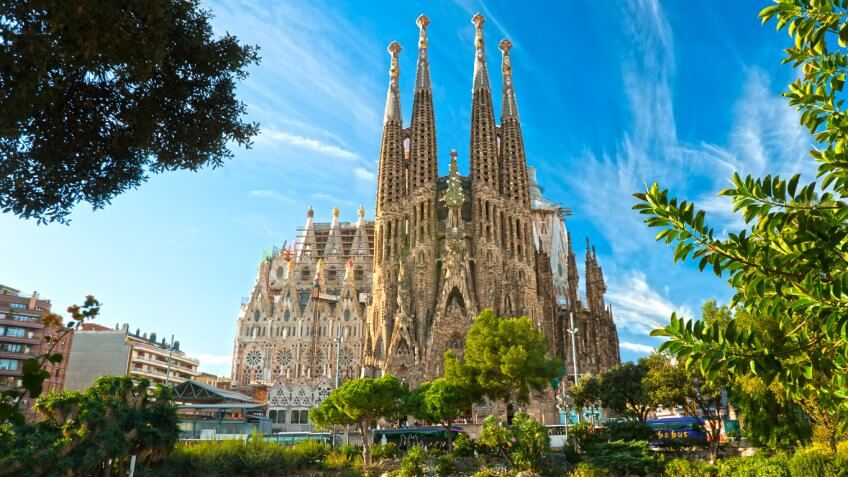 Luciano Mortula – LGM / Shutterstock.com
4. Barcelona, Spain
Big, bold Barcelona is the capital of Spain's Catalonia region. Tourists flood to the cosmopolitan city to see Antoni Gaudí's fabulous Temple of the Sagrada Família, stroll through great museums, dine on wonderful seafood and relax on the fabulous urban beaches.
Barcelona isn't a super-cheap place to visit. An average hotel costs $52 a night, or some $700 for a two-week stay. Add another $826 per person for the airfare, plus all that delicious restaurant food, and you've busted your entire annual travel budget in just 14 days.
But living in Barcelona costs less than you might think. You can rent a downtown apartment for only $868, then enjoy daily explorations of this fun and beautiful city. One of the best places to retire in the world? You be the judge.