When you retire, your life takes on the qualities of an endless weekend without a back-to-work Monday looming. If you dream of a long vacation at a popular destination but worry about the high cost, there could be another way. Why don't you consider moving there?
We surveyed 20 desirable national and international vacation spots, looking at the average cost of one night in a hotel and the expense to travel there, as well as average apartment rents in each city. And we learned something interesting: While vacationing to these places could prove expensive, retiring there could present an affordable — and wonderful — option. These are some of the best places to retire in the world. Is one of these cool retirement cities your dream spot?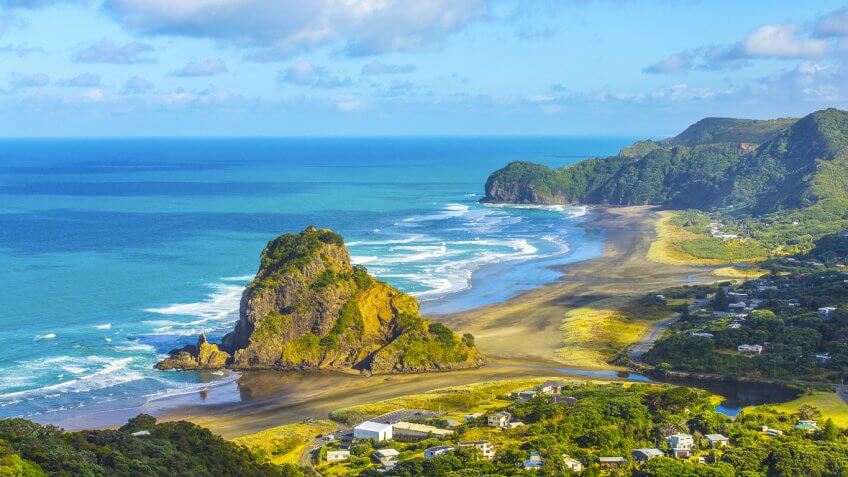 Sorang / Shutterstock.com
1. Auckland, New Zealand
New Zealand is one of the safest countries on the planet, and Auckland is one of friendliest and most livable cities anywhere. But it's no short hop from the United States, and the airfare isn't cheap. Still, many Americans head to New Zealand to enjoy the incredible natural beauty of Auckland's beaches, islands, parks and volcanic cones, as well as its diverse and exciting culture — not to mention Middle-earth from "The Lord of the Rings."
Auckland hotels seem inexpensive compared to those in urban beach cities in the U.S., but at an average cost of $20 a night, you'll pay $280 for a two-week stay. Add that to the airfare, and two people will pay almost $3,000 for that getaway — pricey on a retirement budget.
If you move to Auckland for retirement, you'll find rent in a one-bedroom apartment in the heart of the city averages about $1,150 per month. That's within reach for many retired couples, making Auckland a possible answer to the question of where to retire.

f11photo / Shutterstock.com
2. Austin, Texas
Austin, the capital of Texas, has built a reputation for its eclectic live-music scene, with more than 250 music venues, and for its arts community, including world-class museums like the Blanton Museum of Art. Outdoor enthusiasts also can enjoy cycling, golfing and hiking.
Air fares to Austin are affordable, with flights averaging $379. But Austin hotels will cost you about $86 a night. That means that a two-week stay will set you back more than $1,200 in hotel costs alone, plus all those meals out.
Retiring in Austin is feasible for some people, given that the average rent for a downtown apartment is $1,573. If you eat in, you'll still have money to enjoy the great music and museums.